In April of 2008, I became a life drop out. Well, I dropped out of the traditional way of living life. I was a 25 year old woman, single, no children, and no mortgage. Aside from being lucky, I was also free. I had recently quit my job in the fashion industry and found myself with newfound freedom and a lottery winning of all the time in the world.
Desperate to do a little traveling and nurse the wounds from my post job depression, I took a chance and landed a last-minute tour through India. Little did I know that this 3 week tour would change my life forever in more ways that I could ever imagine.
After an epiphany in the Himalayas, the result of the trip was a total life overhaul. I broke the lease to my Los Angeles apartment, chucked all my stuff into storage, got rid of my sports car, and even sold my designer shoes. Was the transition difficult? Find out.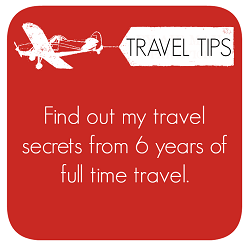 I've now been traveling for over 7 years even though my original intention was to take a 3 month career break. I've been to 40 countries on 6 continents and I've come to the conclusion that I am traveling indefinitely. I've traveled as a tourist, a backpacker, as a couple, and now as a digital nomad. Check out my Travel Timeline for more details and you can also see my article in Cosmopolitan Magazine for the full story.
For the past year I've been successfully running a travel website for women called Travel Fashion Girl that offers packing advice based on my own travel dilemmas and solutions. Learn more about it here.
Wanderlust and the Girl is my personal story along with tokens of travel advice I've learned along the way. I hope to offer a few words of wisdom to travel newbie's, aspiring vagabonds, and armchair travelers. It took me awhile to get here but I'm here and ready to share my tale of travel, adventure, and love.
Feel free to drop me a line with any questions or comments. I'm always happy to help out fellow travelers. If I don't reply right away, I'm not ignoring you. I just have really bad time management skills so please email me again 🙂
WanderlustandtheGirl at Gmail dot com
HAPPY TRAVELS!